Lets assume that absenteeism costs € 300,- p.p.p.d.. Apparently not a huge amount, but appearances can be deceiving. Based on seven days of absenteeism, the costs are € 2100,- for one employee. But the figures quickly increase as absenteeism increases among employees. For a group of ten employees, the absenteeism costs will be € 21.000,- and for fifteen employees with a seven-day absence, the amount increases to more than € 30.000,-. You can imagine how quickly the costs will increase in the event of long-term absenteeism and certainly when there is also an increase in absenteeism among employees. It is important to investigate what causes the absenteeism so that the causes can be adequately eliminated and resolved.
Reason enough to take a closer look at your own organization to prevent worse. More efficient measures can make a huge difference.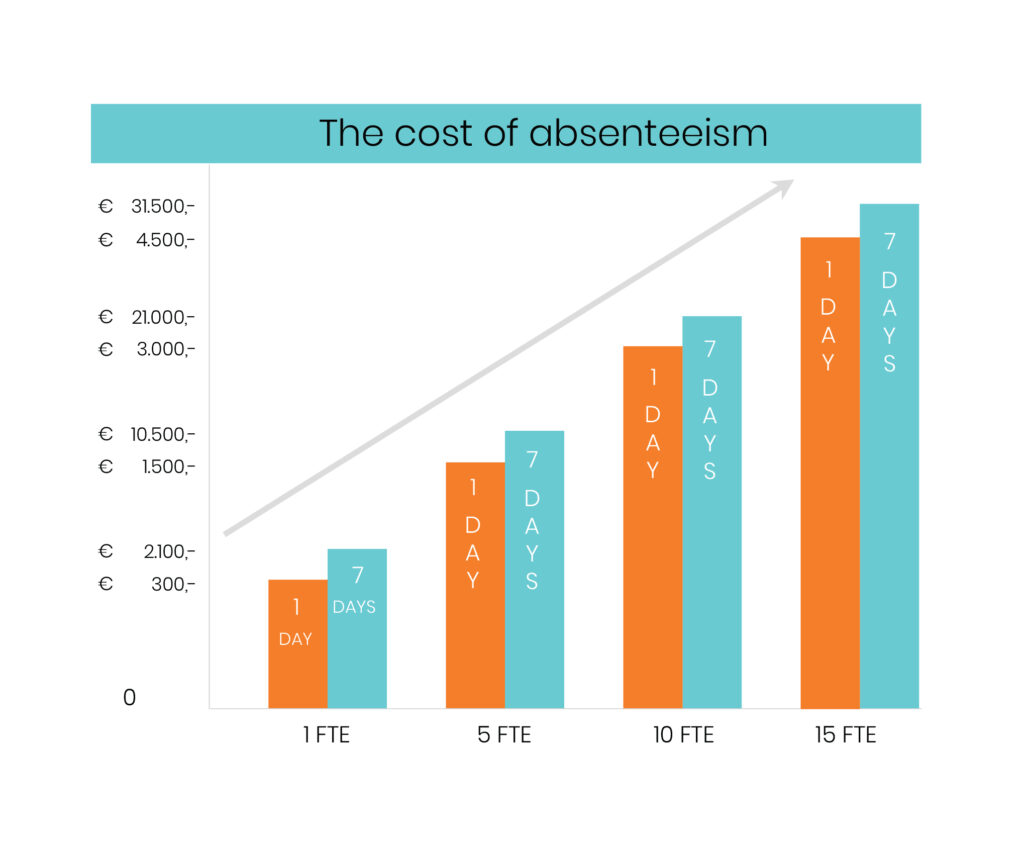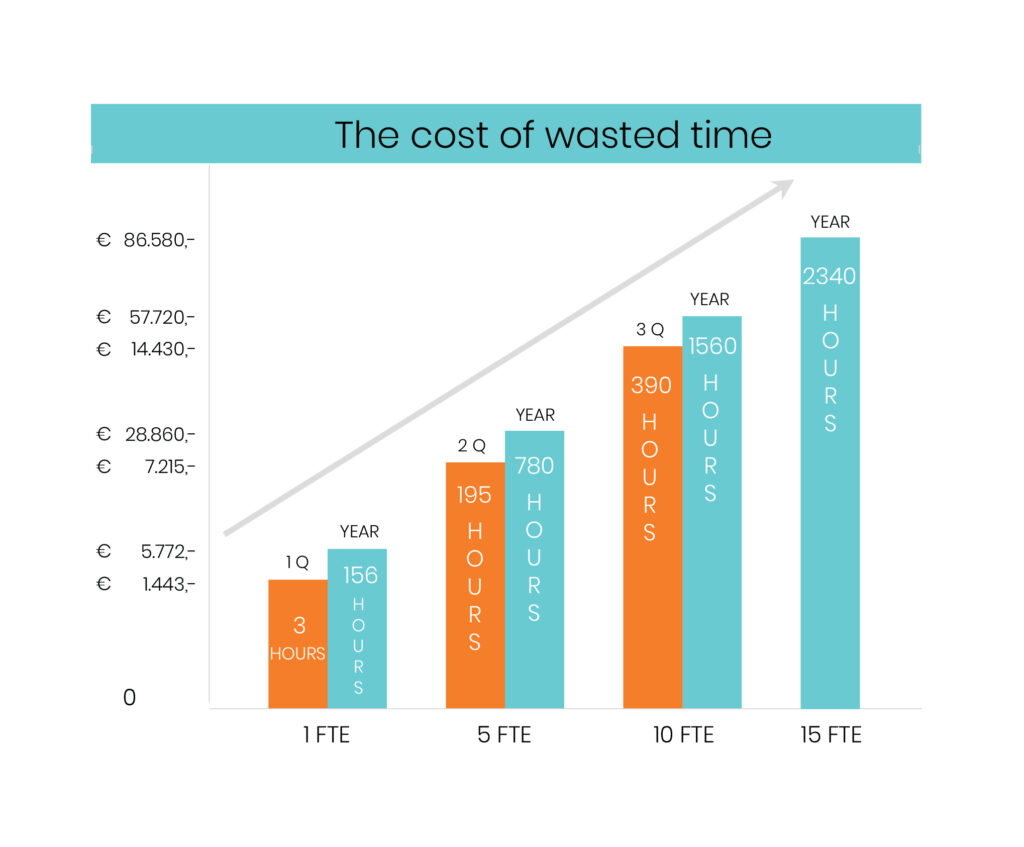 aten we er in dit voorbeeld eens vanuit gaan dat er allerlei procedures en protocollen opgevolgd moeten worden om tot een afwikkeling te komen. De tijd die verloren gaat aan de complexiteit van de te volgen procedures moeten niet onderschat of aan voorbij gekeken worden. Stel dat de complexiteit van de te volgen procedures voor één medewerker ca drie uur per week in beslag neemt. Dan denk u wellicht dat het om een karige drie uur gaat, maar vergeet niet de lijn door te trekken naar het aantal medewerkers die gehouden zijn dezelfde procedures en protocollen te volgen. Op een team van vijftien medewerkers praat je al snel over 2340 uur per jaar dat een waarde vertegenwoordigt van meer dan € 86.000,-. Dat wordt dan zomaar even door de gootsteen gespoeld. U verspilt niet alleen 2340 uur maar ook meer dan € 86.000,-. De moeite meer dan waard om hier even bij stil te staan.
Too often work processes are overlooked, while you can make more profit by using a more efficient approach. 
Whatever your specific situation is, efficiency will only be effective when the causes are investigated. By tackling it at the source, structural change can take place. That is why in the case of coaching, we first assess whether coaching is necessary, which coaching is recommended and why, and not the other way around.
The causes of absenteeism may be different from the complexity of the work. However it is possible that both situations are related, but that is not necessarily the case. Work pressure, long-term overburdening and stress can lead to absenteeism. Employees who do not fit in or who work below their level can also lead to absenteeism.   
Every organization is different. That is why we always offer customized solutions. So also in your case. Do you doubt whether Efficiency Management is the instrument that can support your organization or do you want more information on how Efficiency Management can be of service to you?
An orientation meeting is free of charge and does not oblige you to anything.
We are happy to be of service.
Brochure aanvraag voorEfficiency Management